I have always been fascinated by the night sky – stars and planets – and Space in general.
The first thing I do in the morning and the last thing before going to sleep, is to check the whether the sky is clear or not – and I do recheck every time I go outside. I don't even think about it – I just orient myself sky-wise, I guess, like most people do with traffic before crossing the street 😉
I've always like taking pictures and I've seen tons of documentaries about Space in all kinds of variations – but I never thought about combining the two interests;
Well I did try, but the pictures were always very dark or blurry and the motives always ended up being very small in the photos…
I thought, taking pictures of Space required a space organisation like NASA or ESO and million dollar telescopes in Space or on a Chilean Mountain ridge, I thought…
…until the summer of 2017, when I went to the Appalachian Mountains to experience The Great American Eclipse – my first Solar Eclipse!
I travelled with my girlfriend on a trip organised by Science Illustrated from Washington DC to Georgia, and during an overnight stop in Staunton, Virginia, our Astrophotographer Göran Strand gave a lecture on his story of becoming and being a professional astrophotographer.
It was a very interesting lecture with a lot of astonishing photos of all kinds – but all with the sky as a central object or background! One of the photos that really blew me away, was his Hubble-like photo of Andromeda – as I had never even considered that it would be even nearly possible to do such a photo from earth – without having at least one of those aforementioned telescopes on a Chilean mountain top.
That evening I told my girlfriend that I would be very proud and satisfied, if I could ever take such a photo one day – and since that evening Göran Strand's photo of Andromeda has been my benchmark! 🙂
Now, a few months after the realisation, that "normal" people can actually take Deep Sky Photos at home, I have bought myself a small Newtonian telescope (130mm x 650mm – or 5" x 26") to get started, and below is my first successful picture of Andromeda! 😀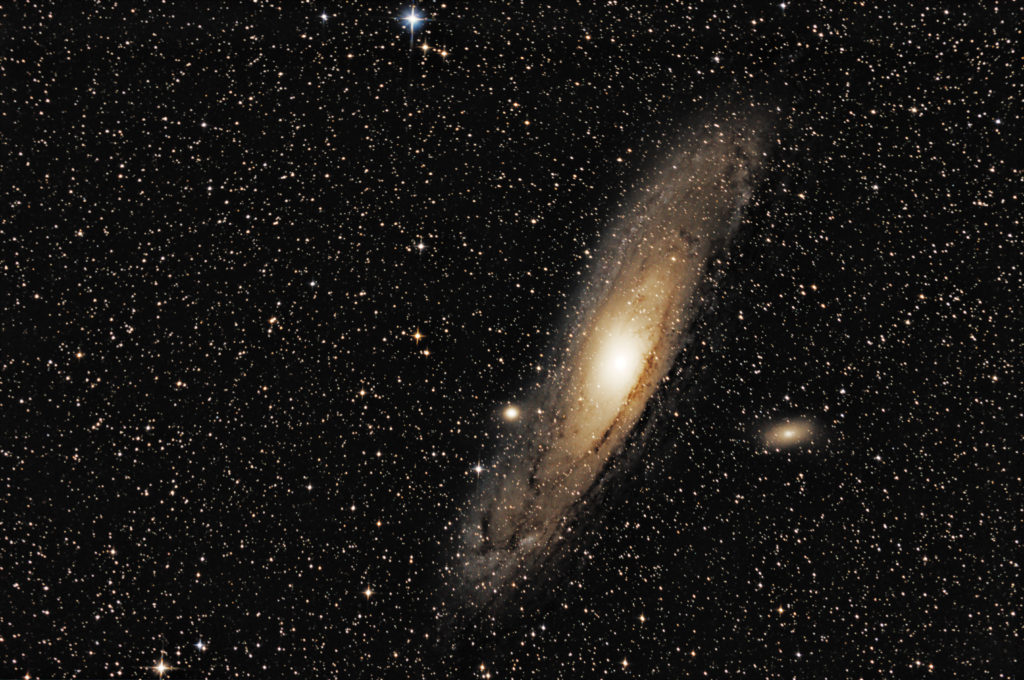 Andromeda is of course one of the easiest Deep Sky Objects to photograph, as it is both the largest and brightest of them all. But to me that doesn't matter, as I think it is very beautiful as well as probably a pretty close look-alike to our own Milky Way!
I have since seen many other beautiful pictures of Andromeda taken from Earth by "normal people" 🙂 so I know that this only the beginning of a probably long journey, and that I will most likely post better photos of this fascinating galaxy in the future 😉
The following part is added a few months later than the above:
As I wrote I would probably post even better photos of Andromeda in the future – and here it comes; The below shot consists of the same frames as the above shot of Andromeda + some more – and I've used a different pre- and post processing application and thus a different workflow to achieve the below result, which I like much more, due to the finer details, colors and clarity! 😀
The telescope and camera is the same in both photos, but the top photo has a total exposure time of 2:05:24 hours and was pre- and post processed in Adobe Lightroom and Adobe Photoshop – and the below photo has a total exposure time of 4:28:00 hours and was pre- and post processed in PixInsight 🙂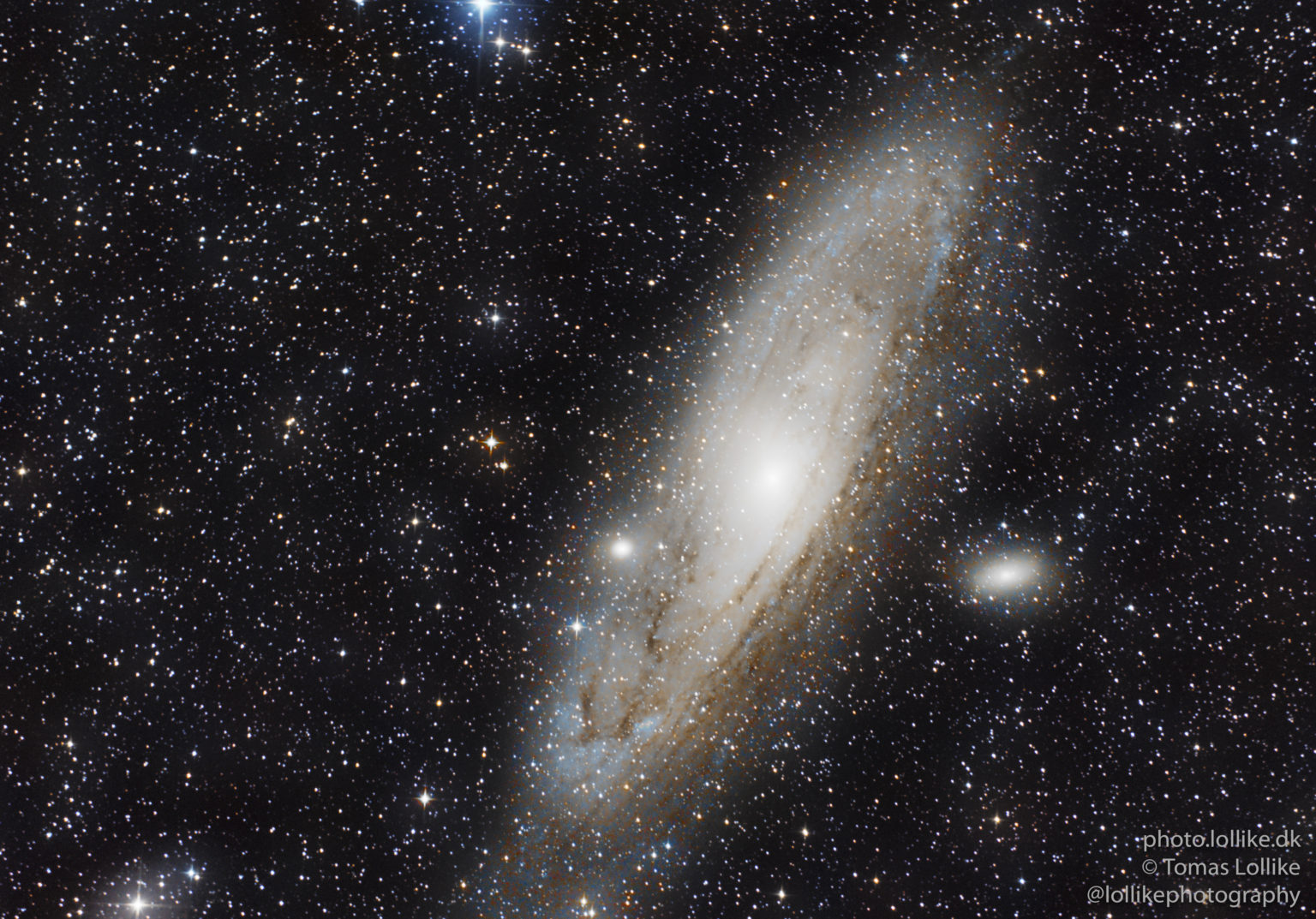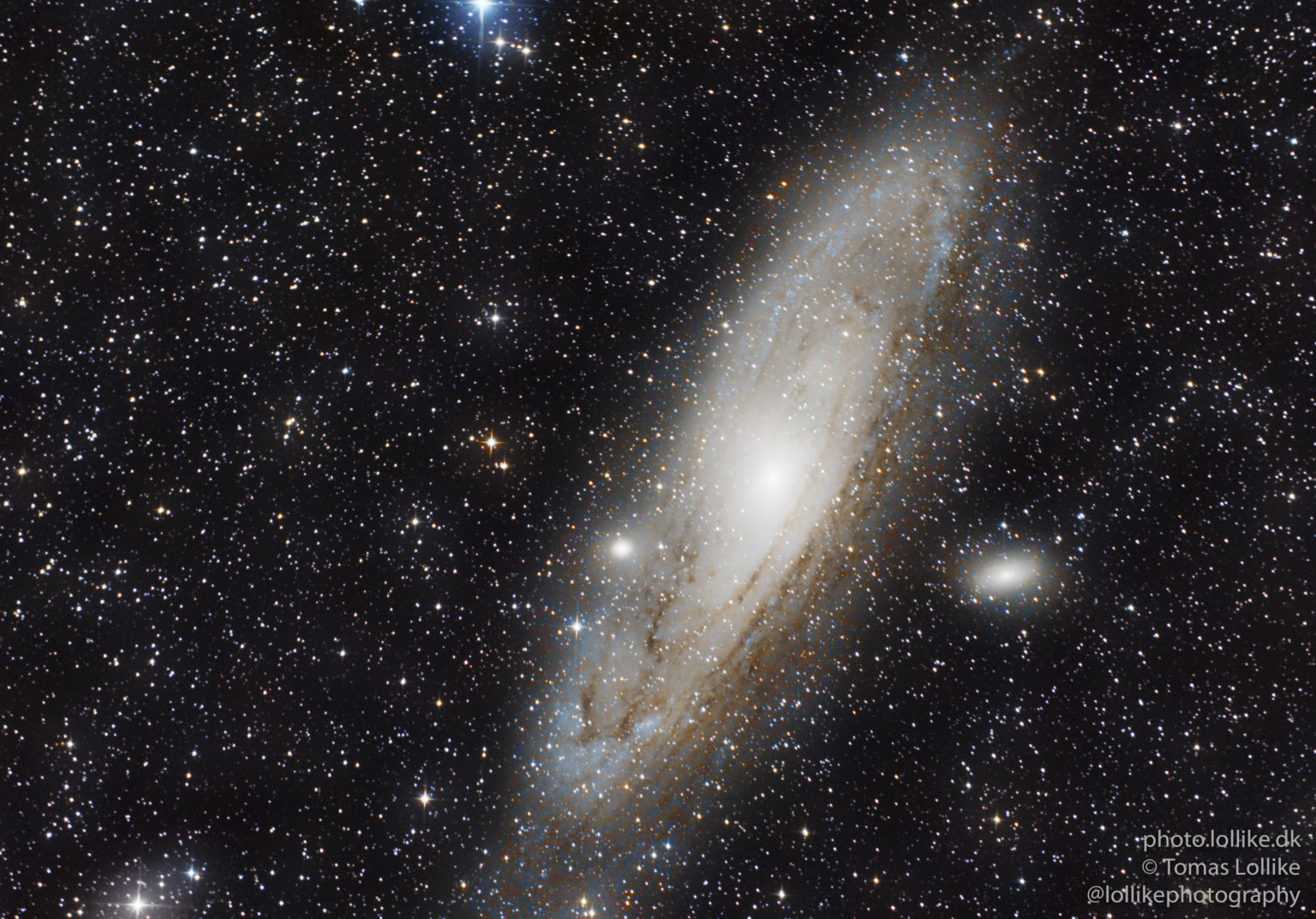 I want to take the opportunity to thank Astrophotographer Göran Strand for inspiring me and for sharing some astro-photography insights in the Georgian nights following the lecture in Virginia!
I can warmly recommend taking a look at his astonishing photos on his web page! 🙂