You Are Here: Home / Night Scapes / Santiago de Chile


Santiago de Chile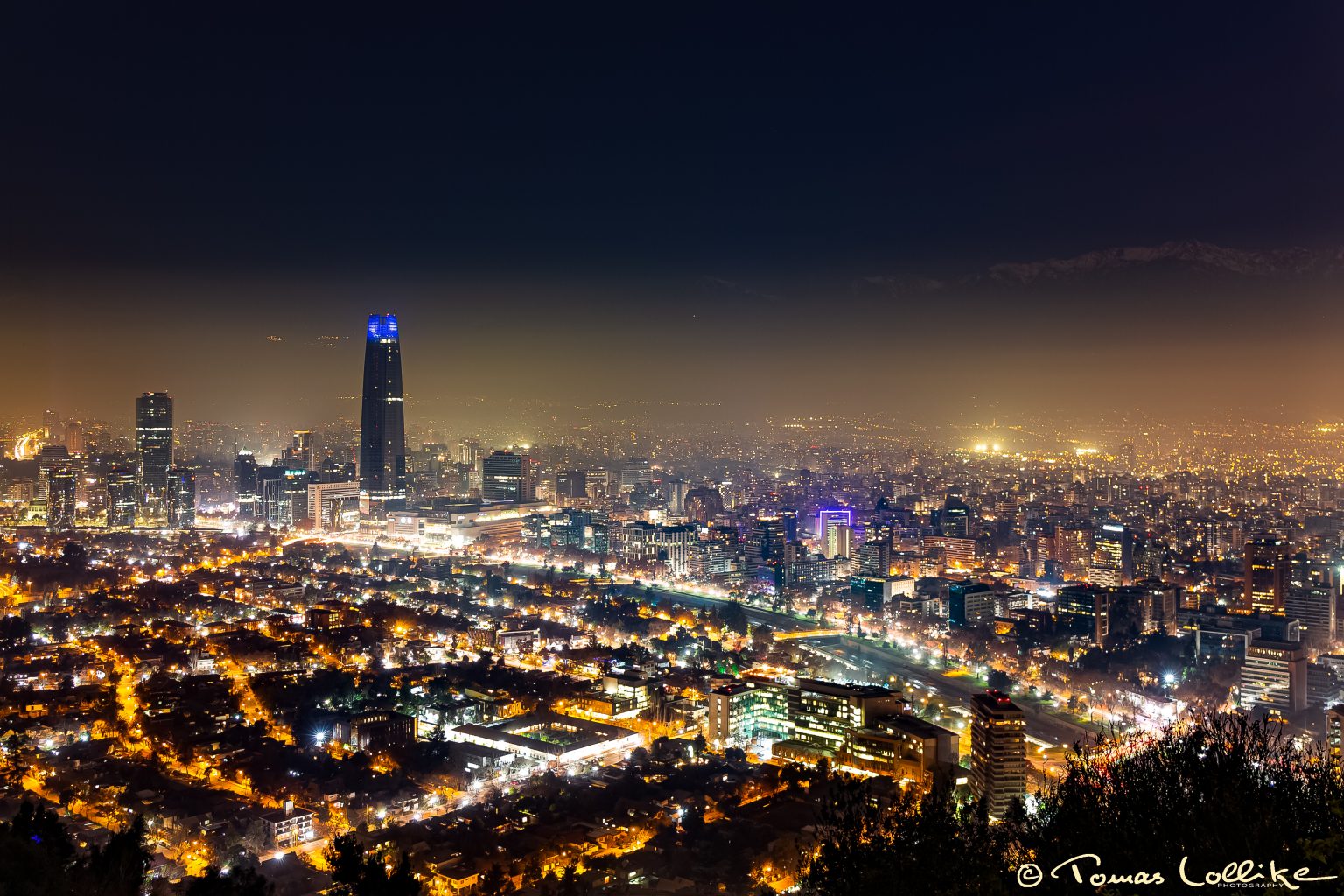 Camera:
Lens:
Focal length (mm):
24
Aperture:
4
ISO/Gain:
100
Total Exposure time:
05:30 min
Number of frames:
11
Full size dimmesions:
4091 x 2727
Capture Date:
2019-06-22 18:35:21
Santiago de Chile from Mirador Hundimiento on the hill of Cerro San Cristóbal.
In the background above the Santiago Haze are the Andes Mountain range with the highest point, Cerro San Ramón, at 3242 meters above sea level – or about 2400 meters above the view point (which is about 250 metres above the city).
In the foreground to the left are the two tallest buildings of Santiago;
The tallest to the left is the Costanera Sky (or Torre Costanera) which is the tallest building of Latin America with its 300 meters (second in the Southern Hemisphere after Australia's Q1). Costanera Sky rises from the Costanera Center which is among others a huge shopping mall and in its own right the largest shopping mall in South America! It was built in 2006-2012.
To the right of Costanera Sky is Titanium La Portada, which is located in the capital's high-end financial district of El Golf. It is the second tallest building in Chile with its 194 meters.
When built (2007-2010) it was anchored 50 metres deep with concrete and steel pylons so it should be able to withstand an earthquake of 9.0 on the Richter scale – and didn't suffer any damage in the 8,8 magnitude earthquake of 2010 (except one exterior decoration).
Dividing the photo from middle left to lower corner right runs the River Mapocho with melting water from the Andean Mountains. It not only divides this photo – it divides the whole city from east to west and is 100 kms long. South of Santiago Airport it merges with Maipo River which has its mouth in the southern part of San Antonio on the Pacific Coast.
The thee mountain villages hiding in the Santiago Haze to the left of the top of Costanera Sky are most probably the ski areas of La Parva (left), Farellones (right low) and El Colorado (right top).