You Are Here: Home / Milky Way / Salar de Atacama southwards 2019


Salar de Atacama southwards 2019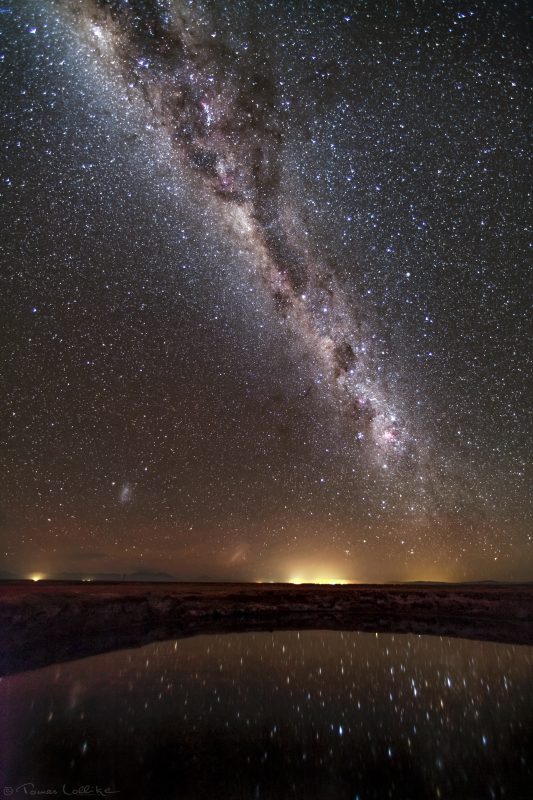 Camera:
Lens:
Focal length (mm):
14
Aperture:
2.8
ISO/Gain:
6400
Total Exposure time:
13:00 min
Number of frames:
30
Full size dimmesions:
3699 x 5548
Capture Date:
2019-06-27 22:27:06
The southside and Center of the Milky Way in front of a sweet water deposit, Ojos del Salar, from an underground river in the Chilean Atacama Salt Flat in Atacama Desert approximately 30 km south of San Pedro de Atacama in Northern Chile.
The Galaxy Center of the Milky Way is at the top of the image. Further down towards the horizon is the Southern Cross – at the lower part of the Milky Way path.
Just above the Southern Cross – still in the Milky Way path and almost parallel to the path – is our closest neighbour star system; Alpha Centauri with the two bright stars Alpha Centauri (left) and Beta Centauri (right). The third and nearest star of the system – and the closest star to our sun – Proxima Centauri, is not distinguishable in the photo as it's a Brown Dwarf star – but it's located horizontally below Alpha Centauri about half the distance as between the two main sequence stars.
To the left of the Milky Way and just above horizon are the two Magellanic Clouds – the Large Magellanic Cloud closest to the horizon and the Small Magellanic Cloud as the more apparent further up.
The distant light pollution at the horizon is from the SQL Lithium Mine some 25 km to the South. Salar de Atacama is the world's largest and purest active source of lithium, containing 27% of the world's lithium reserve base.