You Are Here: Home / Deep Sky / Pacman Nebula 2021


Pacman Nebula 2021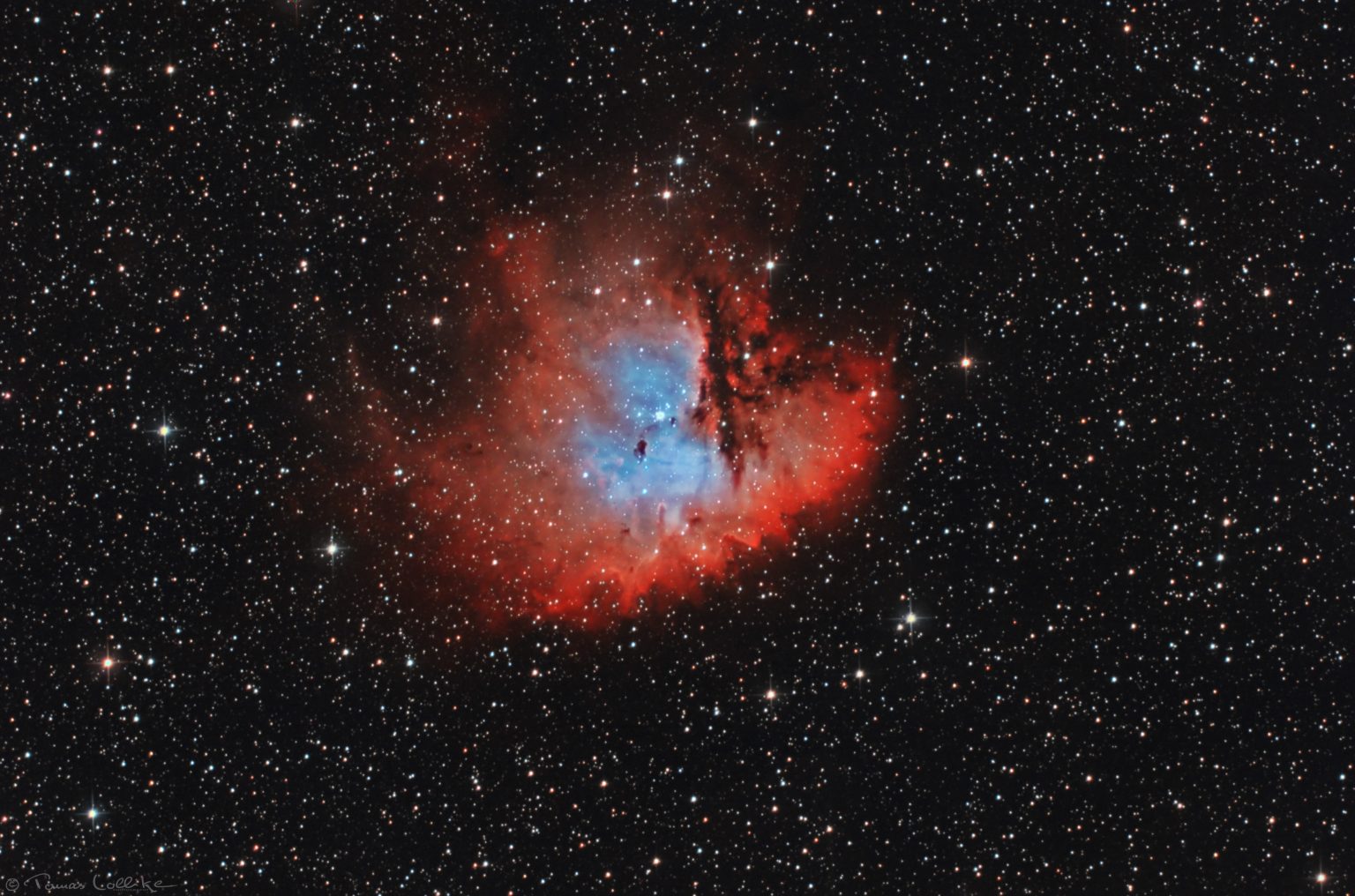 Camera:
Lens:
Focal length (mm):
589
Aperture:
4.5
ISO/Gain:
121
Total Exposure time:
15:51:00 hours
Number of frames:
317
Full size dimmesions:
2560 x 1693
Capture Date:
2021-10-22 00:00:00
NGC 281 is better known as the Pacman Nebula as it often resembles the little ghost-eating cheese.
However in this astrophotography the exposure time is long enough to reveal the faint parts which is the reason Pacman isn't very recognisable.
Pacman Nebula is found just "under" the right corner-star of Cassiopeia (the asterism resembling a "W").
You can just make it out on this wide-field photograph of Cassiopeia with Heart and Soul which I took the following month – where it actually resembles Pacman a lot more 😀
Pacman Nebula was discovered by American astronomer Edward Emerson Barnard in 1883 although it's 9500 light-years from Earth.
It is actually located in the Perseus Spiral Arm of the Milky Way which is the "next" spiral arm from the center after the Orion–Cygnus Arm where we are located.
As the Pacman Nebula is an emission nebula the colours comes from different ionised atoms in the gas emitting light in specific colors (wavelengths) when falling back from excitement by the (often utraviolet) radiation from hot and bright nearby stars – the blue is Oxygen and the red is hydrogen.
The Pacman Nebula itself is about 35 x 30 arcseconds.
The whole image is 1,62 x 1,07 deg (about the size of the outer joint of a finger when held out in arm's length) and the resolution is 1.62 arcsec/pixel.
The image was taken over 3 nights in October 2021 (1 night from home in Denmark and 2 nights from the summerhouse in Sweden). It consists of 317 x 3 min exposures with the Optolong L-extreme filter (for the nebula) + 294 x 3 min exposures with the Optolong L-Pro filter (which in the end were only used for the stars).