You Are Here: Home / Night Scapes / Nakkehoved Lighthouse and Comet Neowise


Nakkehoved Lighthouse and Comet Neowise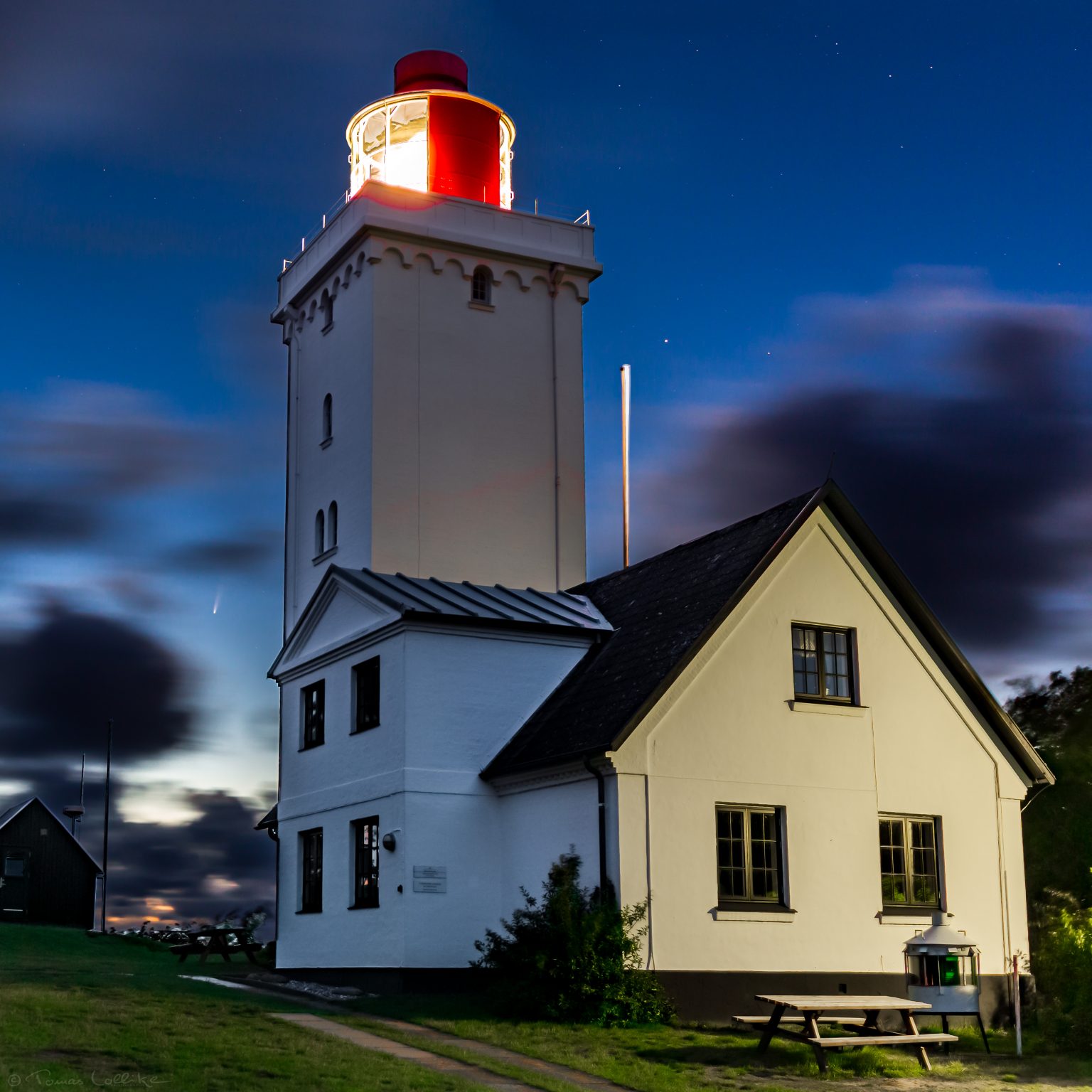 Camera:
Lens:
Focal length (mm):
35
Aperture:
4
ISO/Gain:
320
Total Exposure time:
30 sec
Number of frames:
1
Full size dimmesions:
2560 x 2560
Capture Date:
2020-07-12 02:42:14
Comet Neowise passing Nakkehoved Lighthouse in North Zealand close to Gilleleje in Denmark.
Comet C/2020 F3 (Comet Neowise) was first discovered on 27 March 2020 by NASA's NEOWISE Space Telescope on its way inbound around the Sun.
It passed around the Sun on 3 July 2020 with a proximity of 43 million km (inside the orbit of Mercury) and is now on its way back out to the outer edges of the solar system.
On 23 July 2020 it passed closest to Earth with a distance of 103 million km (2/3 of the distance from Earth to the Sun) and the proximity slowed its orbit down from 4500 years to 6800 years!
The nucleus dates back to the birth of the Solar System and is estimated to be 10 km across (so about same size as the dinosaurs-killing comet or asteroid).
The tale(s) consists of gas, ions and dust steaming of its icy surface and is blown in direction away from the Sun due to the solar wind
At the time this photograph was taken the nucleus' coma diameter was estimated to be 297.000 km and the gas tail length was estimated to be 5,89 million km (for comparison the average distance from Earth to the moon is 382.500 km)
Nakkehoved Lighthouse is placed on a 30 m high cliff and was constructed as a double lighthouse in 1772 but the eastern light tower was decommissioned in 1898 and the remaining western tower was built higher to its now 21 meters.
In clear weather its light can be seen from 46 km away and together with Kullen Lighthouse in Sweden they mark the entrance to The Sound from Kattegat sea.
The last lighthouse keeper actually lived in the house – he was pensioned in 2003 and the place has since been a lighthouse museum 🙂