You Are Here: Home / Milky Way / Milky Way over Hymer and Lavender field 2023


Milky Way over Hymer and Lavender field 2023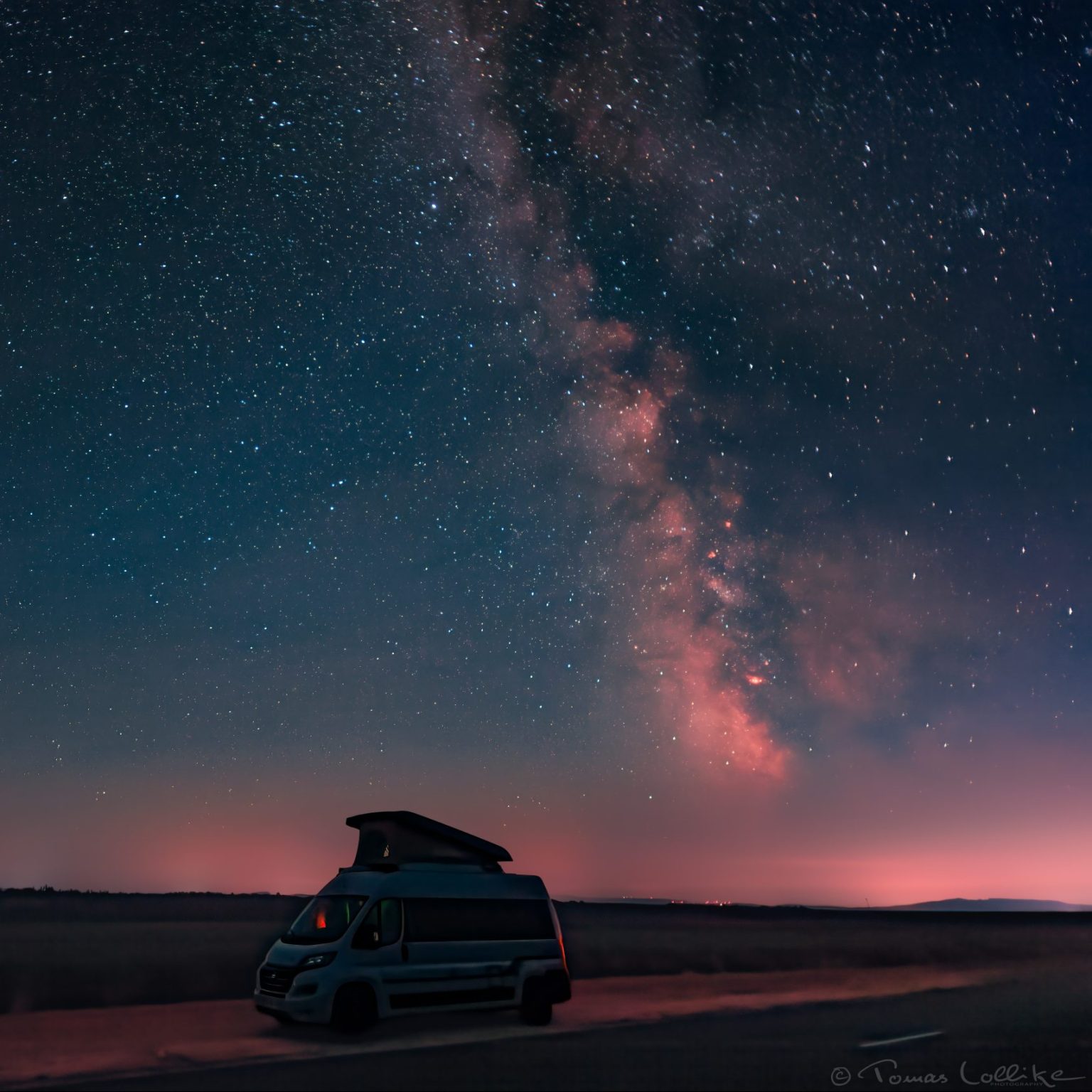 Camera:
Lens:
Focal length (mm):
14
Aperture:
1.8
ISO/Gain:
12800
Total Exposure time:
02:17 min
Number of frames:
37
Full size dimmesions:
1708 x 1708
Capture Date:
2023-07-21 00:14:28
After a week of touring the Gorge du Verdon canyons in Provence/France (where I slept at new passing places / rest areas every night – always on some cliff-edge) I spend my last evening on the flat lavender planes just outside the canyon.
I had been shooting Milky Way- and a Startrail photos – but just before packing up to return back into the canyon to find a new magnificent view to wake up the next morning – I pulled back to the other side of the road to make the previous shooting spot the scene itself 🤔 The idea was of course to get a picture of the camper van under a starry sky and the Milky Way 😃
The reason the ground looks a little fake is that I didn't spend the time to get enough total exposure time vs the hight ISO and the low number of subframes – so the final image had to be heavily processed and noice reduced which makes the image look too soft (especially in the dar areas as the ground)…
But whatever… Really!!
Because, now I have a great excuse to get back there asap to take a better one 😝 spending the necessary time (incl finding a more interesting background, like the iconic ones with a solitude field tree or a lonely field house in the middle of these vast lavender fields) 😃
Should you want to try it out yourself, then please note that most lavender fields had already been harvested when I was there, so I wouldn't recommend any time later than mid-July if have lavender in your sights that is.
You can see the Milky Way photo referred to here: Milkyway over lavender field