You Are Here: Home / Deep Sky / M27 – Dumbbel Nebula


M27 - Dumbbel Nebula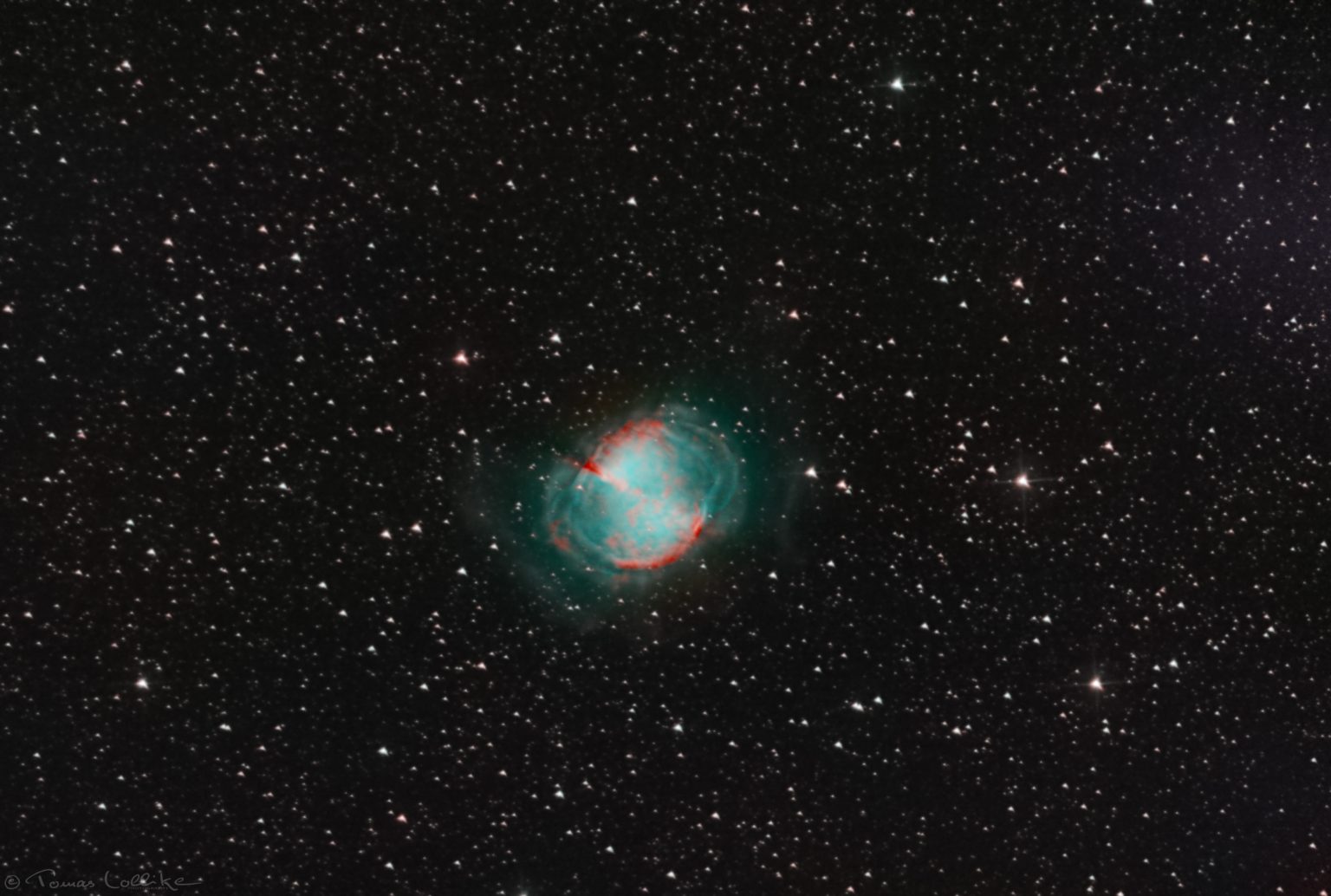 Camera:
Lens:
Focal length (mm):
1158
Aperture:
4.7
ISO/Gain:
121
Total Exposure time:
08:00:00 hours
Number of frames:
96
Full size dimmesions:
2560 x 1723
Capture Date:
2021-09-04 00:00:00
The Dumbbel Nebula a.k.a. M27 is a planetary nebula which is the remains of a dying star.
It is approximately 1360 light-years away from Earth.
The now white dwarf star ran out of hydrogen fuel 9800 years ago.
When that happened it collapsed and the pressure heated up the core to 100 million degrees (6-7 times hotter than the original star) and it began to burn helium into carbon and oxygen and the star expanded to a red giant.
At this stage it's unstable and it began to pulsate which pushed the outer layers away in a bubble like shell shape.
When the naked core of the star was exposed from its atmosphere it began to ionise the surrounding gas with ultraviolet photos which makes ever expanding shell of the outer layers glow.
The core of the star is a this stage called a white dwarf.
The French astronomer Charles Messier was the first to record the Dumbell Nebula in 1764 and he gave it number 27 in his Messier Catalogue.
Later Anglo-German astronomer William Herschel (who discovered the planet Uranus) named it and its like planetary nebulas, as they resembled gas giants like Uranus.
In 1864 English astronomer William Huggins was the first to observe the Dumbbell Nebula through a prism (spectroscopy) and recorded its emission lines which proved that it had nothing to todo with a planet (nor a galaxy which was also suggested).
Only in the 20th century it was finally established that these planetary nebulas are remains of dying stars.
The white dwarf of the Dumbbell Nebula is thought to be a little larger than our planet Jupiter, however much denser and much hotter that our Sun!
The vertical dimension of this photograph is approximately the same as the diameter of the full moon – more precisely 54.4 x 36.6 arcmin at a scale of 0.824 arcsec/pixel.