You Are Here: Home / Eclipse / Total Solar Eclipse 2019 – Diamond Ring, Baily's Beads & Prominences


Total Solar Eclipse 2019 - Diamond Ring, Baily's Beads & Prominences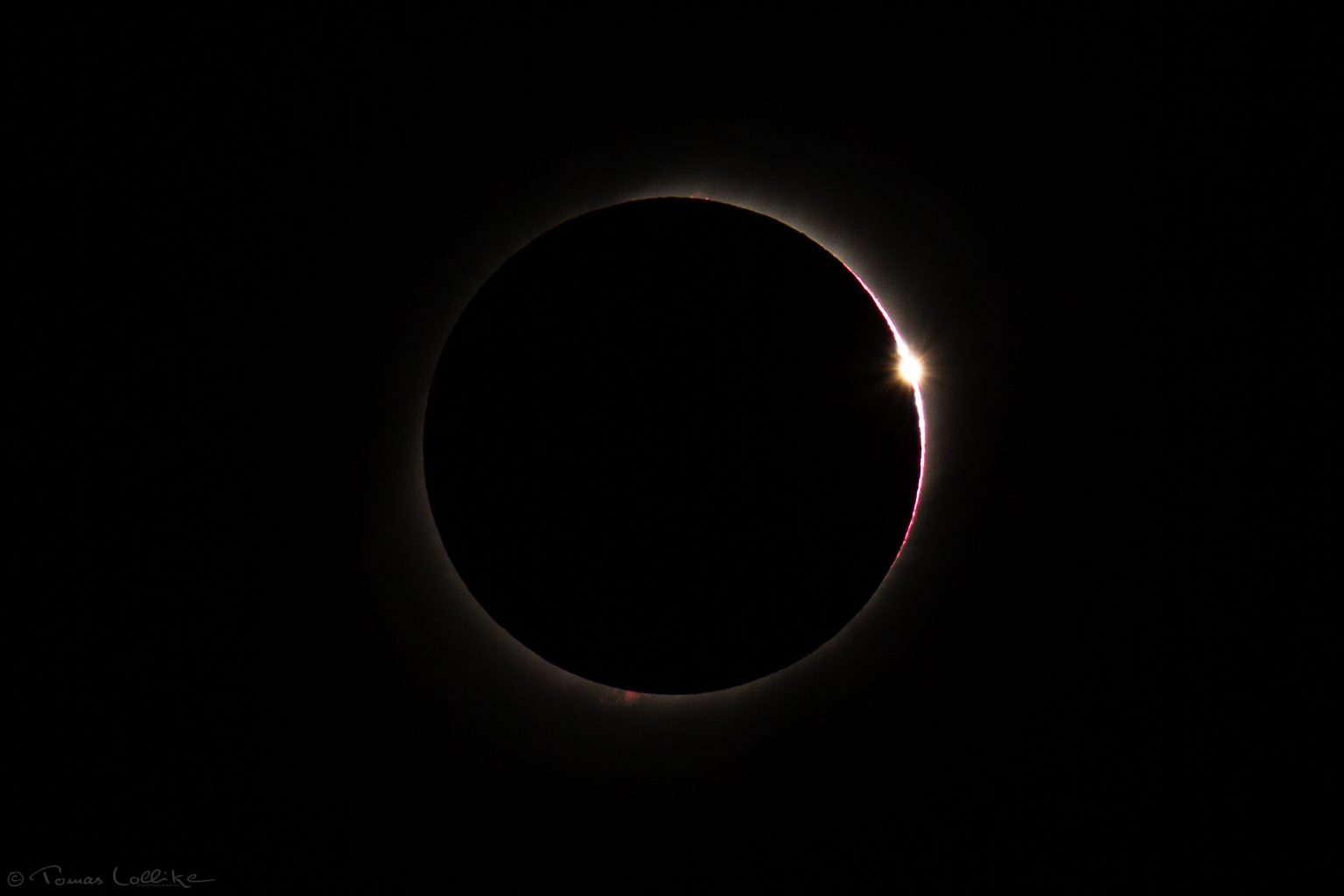 Camera:
Lens:
Focal length (mm):
600
Aperture:
16
ISO/Gain:
400
Total Exposure time:
1/500 sec
Number of frames:
1
Full size dimmesions:
2377 x 1585
Capture Date:
2019-07-02 16:39:17
The image captures 3 of the most exiting experiences in the few seconds before (and after) a total solar eclipse!
At the bottom and top are seen to prominences (a.k.a. solar flares). These are energy bursts looking like flames – and are many times larger than Earth!
To the right is The Diamond Ring – which pretty much explains itself 😉
This is a small Diamond Ring – but I chose this one over many larger ones as I think it looks so delicate and almost vulnerable 🙂
On each side of the Diamond – especially under it – are a series of red dots; these are called Baily's Beads names after the English astronomer Francis Baily who first described them in 1858. They look like beads that make up a pearl necklace.
Both Baily's Beads and the Diamond Ring effects are actually the sun shining through the valleys of the Moon only interrupted by the mountains of the Moon, so this is only seen at a total solar eclipse at the very last second before totality and as the first we see of the sun after Totality of the Eclipse.
The photo was taken of the 2019 Total Solar Eclipse in Chile from the European Southern Observatory (ESO) at La Silla Observatory in the Atacama Dessert.