You Are Here: Home / Deep Sky / Crescent Nebula 2020


Crescent Nebula 2020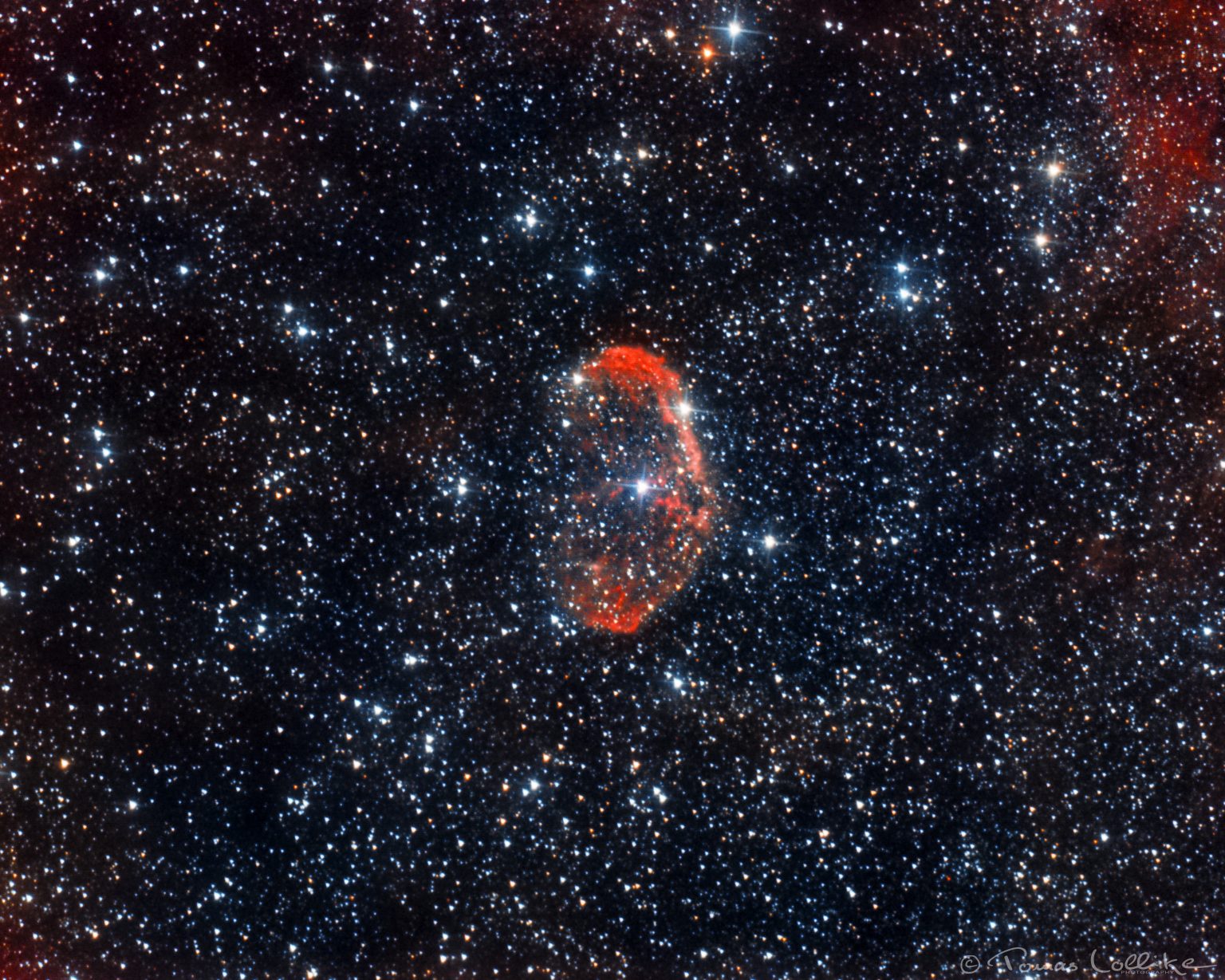 Camera:
Lens:
Focal length (mm):
1170
Aperture:
9
ISO/Gain:
5508
Total Exposure time:
03:56:00 hours
Number of frames:
50
Full size dimmesions:
2560 x 2048
Capture Date:
2020-10-13 22:46:22
The height of this image corresponds to the width of a littlefinger held at arm's length against the night sky 🙂
The Crescent Nebula is an emission nebula in the constellation Cygnus and is about 4.700 light-years away.
The star, WR136, began its dying process a few hundred thousand years ago:
It first swelled up to a red supergiant and began to blow off its outer hydrogen layers – and it's still expanding with about 80 km/s!!
As the star is heavy enough it's begun to fuse helium in the core heating up the outer layers to 70.000 degrees (hotter than almost all other stars) which completely blows away the outer hydrogen layers.
The exposed core is now radiating charged particles at the rate of 1.700 km/s which has caught up and is colliding with the outer hydrogen layers creating the a shell of ionized hydrogen gas which is what we see as the Crescent Nebula.
The rest of WR136 is expected to end its life in a Supernova explosion in a few hundred thousand years from now.
The photograph consists of 50 sub-images taken over 4 nights (but not all of the subs has contributed equally to the final image).
The subs were taken with an old astro modified Canon EOS 5D Mark II with a 2x extender on a guided (but not polar aligned) SkyWatcher EQ3PRO and SkyWatcher 650/130 reflector.
It's my first finalized photograph using the ASIAir PRO (Raspberry Pi micro computer) to control the imaging session and the telescope 👏
The imaging sessions were distributed as 43 x 5 min @ ISO 6400 and 7 x 3 min @ ISO 3200 and the subs were integrated and (pre- & post) processed in PixInsight.