You Are Here: Home / Night Scapes / Arne Jacobsen's lifeguard tower


Arne Jacobsen's lifeguard tower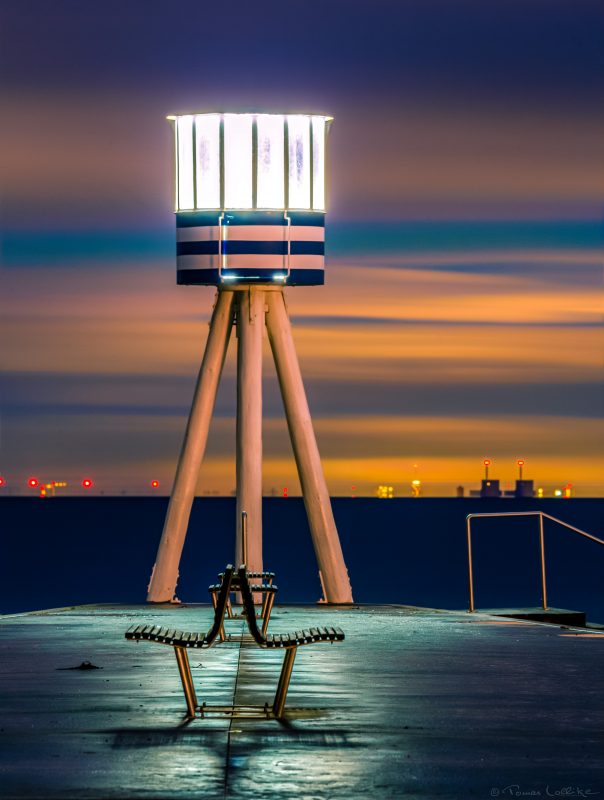 Camera:
Lens:
Focal length (mm):
267
Aperture:
13
ISO/Gain:
100
Total Exposure time:
15:09 min
Number of frames:
3
Full size dimmesions:
1933 x 2560
Capture Date:
2019-11-09 23:57:10
The famous Danish architect Arne Jacobsen (i.e. known for among others the The Egg Chair) won a contest in 1932 to design the new Bellevue Beach Complex including among others 3 lifeguard towers.
This is one of them!
In 2013 Bellevue Beach north of the Danish capital, Copenhagen, was renovated and the characteristic blue- and white painted lifeguard towers were returned to their original glory in the same place where they had been overlooking the beach for more than 80 years.
The lifeguard towers are however nowadays only for decoration as the ladder has been removed during the restore – and the present lifeguard shed placed elsewhere on the beach has been painted white in respect to Arne Jacobsen (opposite other Danish lifeguard sheds which are red striped)
Now the lifeguard tower can serve both as a cosy light for the pedestrians on the pier as well as a mini lighthouse for the sailors!
The lights in the background is actually Sweden some 20 km away! The noticeable building on Swedish ground is their former nuclear plant, Barcebäck.
The Danes have always hated Barcebäck, as the plant is right across the sea from the Danish capital, Copenhagen – and as Denmark is a nuclear free country, we always feared it could leak right out in our face…!